My Own Adoption Stories
How I acquired 3 cats and 2 dogs in 4 years…
When I first moved to Baltimore in August of 2006, I knew right away that I wanted to have a pet. I figured that being a graduate student, I would not have time to devote to a dog, so I thought I would give cats a try. I had been an adamant "dog-person" for many years but I thought that a cat could perhaps suffice.  I convinced my boyfriend to go look at cats just a few weeks after moving in to our new apartment, and we ended up at the Humane Society of Baltimore County. We ended up going there because I think the Maryland SPCA was closed that day, and I didn't even know about BARCS at the time.
There were probably about 15-20 cats available at HSBC, and at the end of the aisle was a cage with three 4 month old kitties. A butterscotch tabby caught my eye, and we asked to take him out first. Michael then wanted to meet his sister, a medium haired tuxedo cat, so we took her out next. Immediately we realized that we'd never be able to choose, so I said, "let's get both!" We were very anxious over the next few days as we waited for our application to be approved (the power had gone out at the shelter and knocked out their phone system, so they had trouble reaching our landlord references), and for the cats to be spayed and neutered, but we were so happy to finally able to bring them home.
In the car on the way home, Michael suggested that we come up with names that "fit" together, following some sort of theme. I had a hard time coming up with anything, but then he half-jokingly suggested that we use computer programming languages. As he started listing a few examples, I jumped at the name "Perl" for the tuxedo girl. It turned out to be perfect for her, because she is such a little diva! We decided on "Py" for the butterscotch tabby, short for Python, because he is quick and accurate and has green eyes like a snake. So began the extra-nerdy theme of naming our pets after computer programming languages.
Perl and Py turned out to be very friendly, social, and playful little kitties. They continue to provide endless entertainment and are total sweethearts. Py loves to share my pillow at night, and Perl doesn't miss a day without kneading my tummy. We always wondered what happened to the third cat in their cage at the shelter, but I later found out that the HSBC had a 100% adoption rate that year so I am sure that she went to a good home.
We were perfectly happy with just two cats, but then one day in early October 2007 I was walking home from the bus at the corner of N. Charles and 29th, and I saw a little black cat creeping around under some bushes eyeing me nervously. I had often come across stray cats while jogging through Charles Village and Roland Park, and my heart always went out to them, but they would never allow me to come close (I guess most were feral). Anyway, this little black kitten looked to be about 4 months old, and when I bent down to call him to me, he came right over and arched his back. I picked him up, and he settled into my arms and started purring up a storm. It was as though he was saying "ahhh… finally I can relax. I am in good hands." I got some looks but I continued to carry him home a few blocks because I just could not bring myself to put him back down and leave him there on the street.
When I got home, I wasn't sure what to do so I called Michael down to the front stoop. When he first saw the little black cat, he mistook it for a cat that belongs to a friend of ours who was also small and black. I explained what had happened, and luckily the little cat was able to win Michael over and he agreed to bring him in and try to find out if the cat had an owner.
We set up a little bed and food and water dish for him in the bathroom because we wanted to keep him separated from the other cats until we knew that he was healthy. He scarfed down the food we gave him as though he hadn't eaten in days, and when we gave him a bath the water was so black and dirty that I wondered if we was going to turn out to be another color after all. He continued to win us over, but in the meantime we contacted the SPCA and posted a "found cat" ad. Michael took him to the vet the next day and got him all the vaccines he needed and a clean bill of health. He had no microchip, and we didn't hear anything from anyone trying to claim him, so we figured that he was just one of many stray black cats in Baltimore and decided to keep him.
At first we were calling him "Littlecat", because he was so little and cute. He soon let his little personality shine and turned out to be quite a little punk. He was forever climbing up onto things, trying to balance on the stair railing, and giving the other cats a hard time. He was so clumsy and funny and always getting into trouble. I started calling him "Bug" because of this, but I didn't want Bug to be his real name. It wasn't long before we decided to call him Tyrone, as "Tyrone's Chicken" was just up the street from where we found him and we thought the name fit his personality.
The cats were great, but I longed for a dog that I could go running with. After we moved to a house in Ellicott City, I pushed and pushed until Michael gave in. I asked our landlady if we could get one, and the same day she said yes I went straight to the animal shelter. First I tried the Maryland SPCA on Falls Road. It was a Monday, and I have a feeling that a lot of dogs had been adopted out over the weekend because there were only a few dogs there. After that, I went down to BARCS.
At the Maryland SPCA, they just let me walk into the back and have a look at the animals; at BARCS, I had to wait to have an escort. The woman took me into a large room with about 40 dogs, and I started reading each card on the kennels. I soon began to feel overwhelmed, but that was nothing compared to how I felt when I realized that there were three large rooms just like that one, each with at least 40 dogs, and then several other smaller rooms with even more. With a heartbreaking feeling, I realized that I could not spend time reading each card and interacting with every single dog. I had to resort to the "walk-by" method, waiting for the right dog to catch my eye.
I came across two black lab mix girls who were wagging and wiggling furiously, but when I looked at their cards, it said they were 5.5 months old, which was younger than what I was looking for. So I kept going. I asked my escort to take out a small tan bulldog mix named Rocky, who was friendly but very strong and definitely a bully-type; I just didn't think he would be good with the cats. So, I asked to go back to the lab-mix girls. I knew that I could never choose between them, so I told the woman to just take the first one she could get the leash and collar on. That turned out to be Dazzle, who would later become Cocoa (we knew our dog would be named Cocoa whether or not it was brown, in keeping with the programming theme).
I fell in love immediately, and filled out an application right away. I was approved the next day, but they had to hold her until Friday in case anyone came to claim her (Dazzle and her sister Harlow had been brought in as strays). I went to visit her each day that week: Michael came with me on Tuesday to meet her, and on Wednesday I brought a friend from work. On Thursday I went alone, and I asked that Harlow have a chance to play outside too. Harlow was a little fuzzier than Dazzle/Cocoa, but just as sweet and friendly. Michael and I often wonder what ever happened to her, but we are sure she was able to win someone else over and hopefully has a happy home. I brought Cocoa home on a Friday, and we spent the weekend worried sick about her as she started throwing up and having diarrhea. She got better after some medications and some good old TLC, and soon she was able to let her personality come through.  She was very thin and had a very coarse and unhealthy coat when we first brought her home – but that didn't last for long!
Since then she has become a wonderful addition to our family, and the cats adjusted to her very well. They are all now best friends! Cocoa's joy, charisma, and fun-loving attitude never fail to turn a dreary day bright. The cats bring smiles to our faces each and every day. I don't know what I'd do without my babies!
—————————————————————–
In February of 2010 we moved to a new house and I immediately started thinking about getting another dog. Cocoa loves other dogs and I could see that she would absolutely love running around with her own pal 24/7. And, having another dog would mean that they could wear each other out! By late March we had come to an agreement that it was okay to look, although we were hesitant to bring home a dog so close to our wedding as we were getting very busy.
A few dogs caught my eye at BARCS while I was volunteering, but my instincts told me it would be a good idea to look at dogs that have been in foster homes through rescue groups as the adoption coordinators would be able to tell us more detail about how the dog behaves and interacts with other dogs and cats.
One dog that I really liked, named Ambrosia (who I even featured in my March 12 entry) had been pulled from BARCS by a group called Rough Life Rescue. We set up a meeting for her and Cocoa but unfortunately Ambrosia was not a big fan of Cocoa's high energy play style and puppy-like antics. A few weeks later I came across a blurb about a dog named Lady available through Bully Paws Rescue and thought that she sounded great, so we set up a meeting with her foster mom. This is Lady below: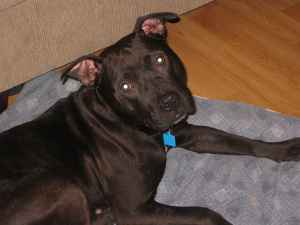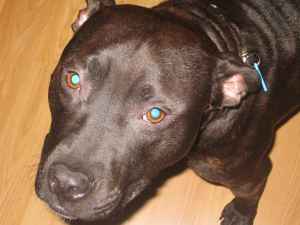 We first went to meet her without Cocoa and absolutely loved her, but when her foster mother brought her over to our house Lady was also not a big fan of Cocoa. Although we were discouraged, Bully Paws recommended we look at male dogs to see if they got along better with Cocoa and in particular they said they had two male pit bull/lab puppies that would be perfect matches for her.
Their names were Fred and Barney, and they had been found by the side of the road covered in ticks and taken to a shelter near Fredericksburg, VA. Luckily they were pulled by Bully Paws and taken to a foster home in Richmond, VA. Here are photos of Fred and Barney while they were in the shelter (from the Bully Paws website):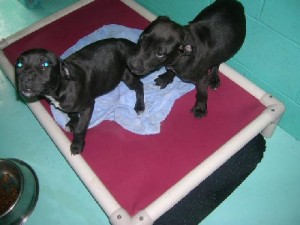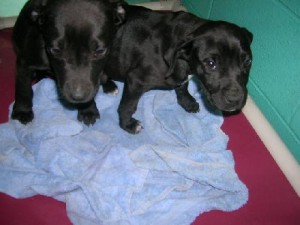 We set up a time to go meet Fred (Barney had already been adopted) and drove all the way down to Richmond to check him out. It was love at first sight for both us and for Cocoa! We ended up bringing him home that same day and the rest is history!
Photo taken shortly after we brought Fred home: