Poinsettia Sale benefits BARCS animal shelter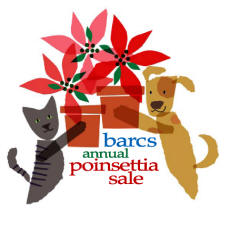 From the BARCS website:
BARCS is the second largest animal shelter in the State of Maryland, taking in over 40 animals every day. Please help us help them!
Order beautiful holiday poinsettias from BARCS to benefit the shelter's Spay and Neuter program. Sign up for 12 or more and BARCS will deliver them to your home or office, just in time for the holidays.
Your purchase will help curtail the overpopulation of unwanted cats and dogs in Baltimore City. And the big, gorgeous red and white poinsettias are a true bargain — 25% off the florist's retail price!
The poinsettias come in either a $15 Medium size (7" pot, standing 17" with 10-15 flowers) or a $30 Jumbo size (10" pot, standing 26" tall with over 20 flowers).We added a couple of extra days to place your order, but orders must be pre-paid by THIS MONDAY – November 23rd.
Orders can be placed by mail or online at http://baltimoreanimalshelter.org/