$6,000 Reward Offered for Animal Abuse Case in Baltimore
FOR IMMEDIATE RELEASE
CONTACT: Jennifer Mead-Brause
April 16, 2010
www.baltimoreanimalshelter.org
$6000 Reward offered for information about dog abuse case
BALTIMORE, MD –  On Easter Sunday, a group of youths were observed throwing rocks and bricks at a pit bull puppy who was tied up in the 3700 block of Greenspring Avenue near the Dr. Martin Luther King, Jr. Elementary School.  A concerned citizen saw this taking place and approached the youths.  The youths began throwing rocks and bricks at the man who was still able to rescue the dog.  The dog was taken to The Baltimore Animal Rescue and Care Shelter (BARCS) where she was named Christy and treated for her injuries.
There has been an outpouring of concern from the community in response to this incident and three organizations are offering a reward totaling $6,000 for information leading to the arrest and conviction of those responsible for this crime.  The Snyder Foundation for Animals is offering $1,000, The Humane Society of the United States (HSUS) is offering $2,500, and People for the Ethical Treatment of Animals (PETA) is offering $2,500.
This case is under active investigation by the Baltimore City Bureau of Animal Control.  Anyone with information about the case is urged to contact them at 410 396-4698.  All tips are confidential and all incidents are investigated.  Informants must be 18 years or older to be eligible for the reward.
When Christy arrived at BARCS she had several wounds on the top of her head, her snout was very swollen with multiple wounds, there were multiple wounds around and in both nostrils, hemorrhages in both eyes, a wound on the dorsal surface of her front paw, and crusted blood in both ears, both nostrils, and in her eyes.  Dr. Sherry Seibel, Veterinarian at BARCS, said that Christy is doing well, "Her symptoms are resolving.  The swelling is going down and all of her wounds are healing.  She is the sweetest dog, and a very forgiving soul."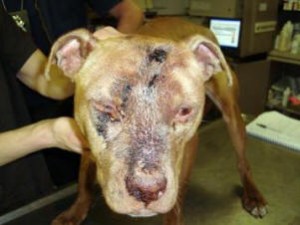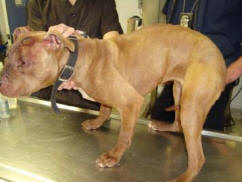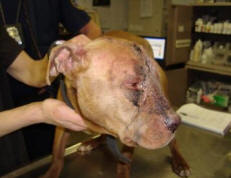 If you would like to help Christy and other animals like her, please donate to BARCS Franky Fund.
BARCS is Baltimore City's animal shelter.  It is the largest shelter in Baltimore and the surrounding area taking in over 12,000 animals each year.
The Baltimore Animal Rescue and Care Shelter, Inc. (BARCS) is a non-profit organization created in 2005.  The mission of the Baltimore Animal Rescue and Care Shelter (BARCS) is to provide sanctuary for all animals and to promote a more humane community.