Spay/neuter clinic for feral cats
Yesterday I volunteered at a spay and neuter clinic for feral cats run by Community Cats Maryland at BARCS. Feral cat populations are a problem in many urban areas and Baltimore is no exception. One of the reasons I first became interested in animal welfare and rescue efforts was that I was upset by the number of stray and feral cats roaming the streets in our old neighborhood. Rather than rounding up and killing the cats, several groups in the area are advocating Trap Neuter Release (TNR) programs that seek to prevent future litters while allowing existing cats to live out their lives.
The caretakers of these feral cats were responsible for trapping them before the clinic and bringing them in on Saturday. Then all day Sunday the cats went through an assembly line of being knocked out with anesthesia, spayed or neutered and any other dental or medical procedures, having their ears cleaned, their ear tip cut to indicate they had been fixed, and given vaccinations. Then each cat was placed on top of a towel on top of its cage to be monitored while the anesthesia wore off.
When I arrived I was handed a tiny kitten wrapped up in a towel. One eye had to be removed because of infection and there was a small piece of gauze sticking out at the end of the sutures. I carried the little guy around for over an hour swaddled in a towel before he started to wake up. He was there with three of his littermates: a calico, an orange tabby and a buff tabby. Once we brought out some food for them he really perked up so I let him go in the crate and eat, but the second we walked away either he or his littermates ripped the piece of gauze out! There was blood all over and we were all worried about him. The vets said that they had planned to take it out the next day but it wasn't a big deal so I got to hold on to him for another couple of hours and hold an ice pack to his surgical site to help with the swelling. He was perfectly happy to snooze. Once he was asleep we tucked him into a small crate of his own. Later we had to give the kittens medication for their fleas and a dewormer which they of course hated but it was still pretty cute to watch them squirm

Here are some pictures of the kittens from the Community Cats Maryland facebook page: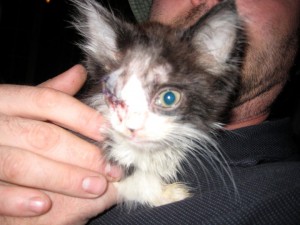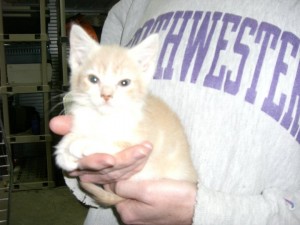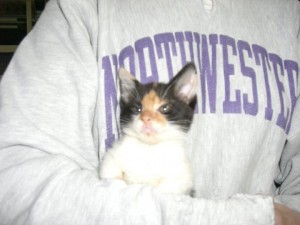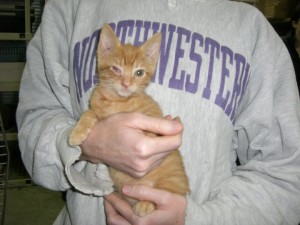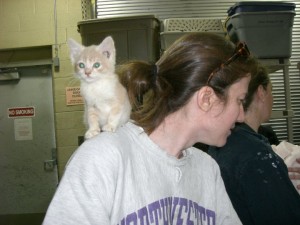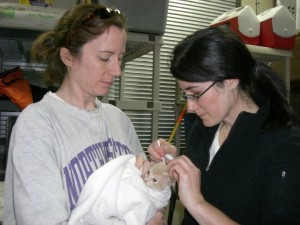 Meanwhile I helped with the recovering bigger cats. Some of them were really huge! I changed the newspapers in the bottoms of their cages and gave everyone a bowl of mushy food mixed with water to help them rehydrate. Most of them gobbled it down but others didn't touch it. My guess is that by this morning all the cats that were still sort of out of it from the anesthesia are going to be fully awake and pissed that they are stuck in the cages!
The Maryland Community Cats facebook page reported yesterday that "We spayed/neutered about 42 feral cats at our TNR clinic today. Assuming that half those cats were female, and assuming they would have had an average of 2 litters of 4 kittens over the next year, we prevented the birth of about 170 homeless kittens in 2010. (And if you really want to boggle your mind, think about all the kittens THOSE kittens would have grown up to have!)"
They might not be able to catch all of the cats, but the ones they did get will certainly make a difference.
_________________________
Unrelated to cats, I wanted to post a picture of one of Shyloo's puppies available at BARCS: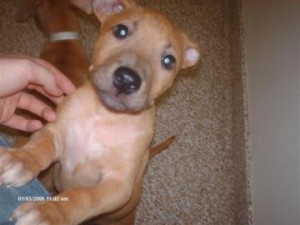 So cute!