Posted in
Uncategorized
on September 29th, 2009 by katie –
Be the first to comment
Yesterday I finished up in lab early so I stopped by BARCS in the afternoon. It seems like there are usually at least a few volunteers there on Mondays so I try to go in the middle of the week, but I knew that Les wasn't going to be there so I decided to head on over.  I was able to walk a bunch of dogs and spend a fair amount of time with each of them so that was nice. It was surprisingly busy for a Monday afternoon, I thought, but then again BARCS is always busy. There were plenty of kennel staff doing escorts, so I thought I could be most helpful by just sticking to dog walking. There were plenty of people coming through to look at the dogs, so that was fun to see.
One very memorable dog was named Hubba Bubba. He was a young mastiff mix that was absolutely huge. He was super dopey and lumbered around but he was very sweet and friendly. He already had an "adoption pending" sign; otherwise I think I would have had to take him home!
The first dog I walked was called Majesty. He is a tall, slim black pit bull who barks loudly whenever someone comes into the room. He's very gentle and well behaved, though, so there's not much behind that bark except to say hello and get attention. He has a "tech favorite" card on his kennel. While I was walking him we got lots of compliments and some of the construction workers who were renovating the kennel spaces started chatting us up. Here is a picture of Majesty from the BARCS website: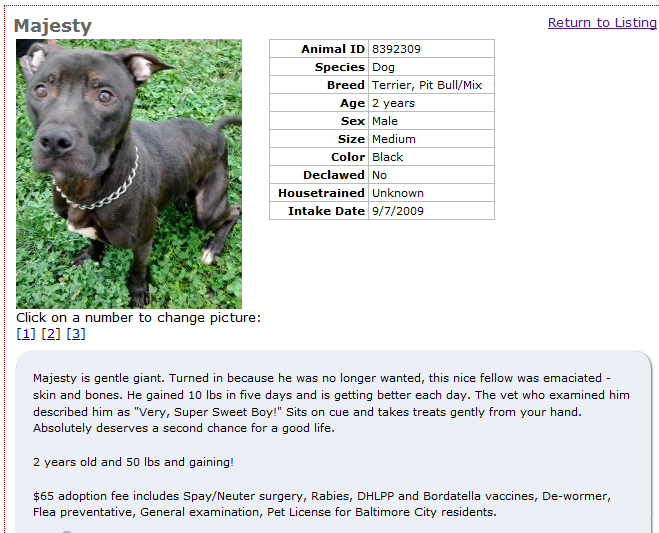 Another dog I encountered was named Niko. Niko has a beautiful, deep gray (almost purple) short coat and a big boxy pit bull head. Unfortunately, Niko had basically trashed his kennel. His platform bed was turned upside down, his food bowls were tossed everywhere, and his face was crusted up with poop and slobber which was smeared all over everything. I took  him out of his kennel and out into the hall and what did he do but pee right there in the hallway. So I had to put him back in the kennel and go get a mop. By the time I got back to him, he was shaking his food bowl around and wouldn't come to me at the door. He had an adoption card on his kennel, so hopefully someone willcome and get him soon and take him home, clean him up, and give him some exercise and attention.
I also walked a couple little cuties. One little dog was very timid and kept trying to climb up me. This was slightly painful because his nails were quite long, but when I pushed him down he sat down and just wanted to be reassured. Another sweetie was named Boxer. Boxer looks like a pit/boxer mix to me and is small and dark brindle. He was super cute and cuddly. Every time he smelled something interesting he went into a play bow to smell it.
Another funny-named dog I walked was called Parrot. Parrot is a broad shouldered, powerful pitbull but he is very well behaved. He's all tan, and doesn't do anything parrot-like that I could see, so I'm not sure what prompted someone to call him Parrot.
I left just before it started to rain with only a few more dogs left to walk, so I felt pretty good. I can't go over there this afternoon because I'm babysitting but I'll try to get back later in the week.