Posted in
Uncategorized
on September 12th, 2009 by katie –
Be the first to comment
It's been several weeks since I started walking dogs at BARCS and I am loving it. Any apprehensions I had at the beginning about handling the dogs are gone and I feel confident knowing how to deal with any situation I am not comfortable with. There are so many super sweet dogs!
I've stopped by a few times on the way home from lab just for an hour or so to try to get a few dogs walked. One of the things that strikes me every time is how snuggly they are. If I had been cooped up for like that I would be going crazy! Most of them are eager to get outside, but then once they're out, they just want some lovin'. Many learn how to sit, which is great.
Another thing that's been absolutely fantastic is the interaction I've had with other volunteers. On Labor Day I went in for a few hours and there were 6 or 7 other volunteers there and we were able to get every dog walked! The other times I've been in during the week I've been disappointed to see that many dogs haven't been walked at all that day, and some not for 1-2 days. I'll definitely try to keep going in at the end of the day during the week whenever I can, even if it's just to get a few dogs out.
A few dogs have really caught my attention so far, and I often wonder how they're doing. One is "Papa", who is an adorable brindle puppy with a big wide muzzle. He was ridiculously cute. I know he was adopted because his new owner came to get him one day while I was out walking him. Another was "Mona," who was a very sweet, well behaved pit mix. She was all white except for a black spot over one eye and ear and another spot on her back. And then there was "Cagney," who was the emaciated honey I met on my second day of dog walking training. Those dogs were all gone within a week or so, and I really hope they went to wonderful homes.
One thing that I try really hard not to let it bother me is that lots of animals are pulled to go to other shelters. The Maryland SPCA comes several times a week and pulls the best dogs and cats and takes them to their shelter on Falls Road. I know that this should make me happy, because these animals will still be adopted and will even have better visibility there, but I can't help but feel a bit deflated that they just come in and pick all the good ones. I guess I shouldn't be so selfish, but when people comment that BARCS doesn't have any good dogs, or it's all pit bulls, I am annoyed because it's like, well where do you think all the other dogs went? They got adopted right away or went to MD SPCA!
For example, LaFayette is a great dog with tons of energy who was at BARCS for a few days before being scooped up by MD SPCA. This is his MD SPCA online listing: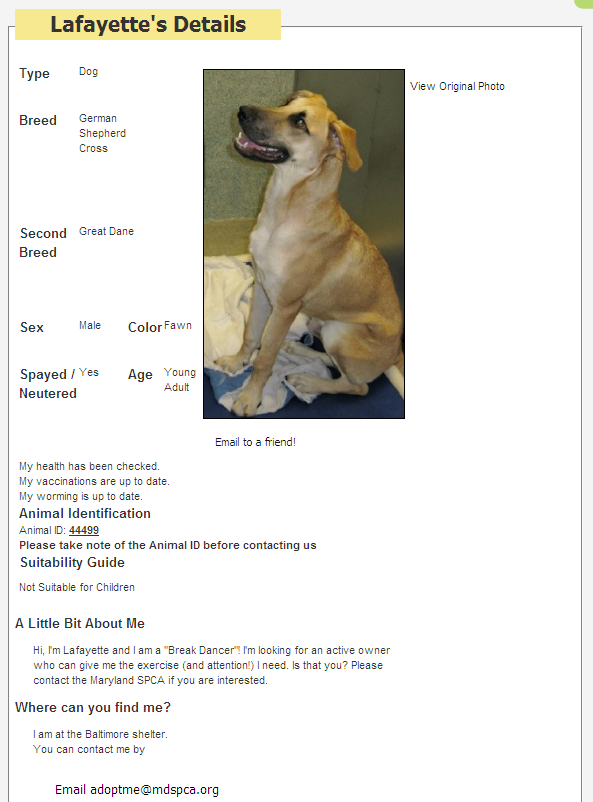 He was removed from their website within a few days, so I bet he was adopted immediately. I keep searching their site for other dogs I might recognize. It's a big struggle in my mind, because I want to be sure that the dogs are okay but at the same time it's like, maybe I don't want to know what's happened to them and I won't pursue it too far. One of the other volunteers told me that she tries not to even remember their names because she doesn't want to get too attached.
I think I'm going to continue to just try to be optimistic and assume that none of the animals being euthanized are ones that I have met, and that each dog is going to a wonderful family that will love them and shelter them forever. I am really hoping that becoming an escort does not burst this bubble for me.